Your Guide to Hiring a Handyman
At some point, every home will have something that needs fixing. It's likely that you currently have some repairs that need to be done. From broken appliances to paint jobs, there's no need to spend the time and money trying to fix things yourself. Instead, you can rely on a professional to take care of any odd job you have on your to-do list. Save yourself the time and find the right handyman to get it done for you. Take Jiffy Wagon for example, a recent partner with Corkd. They should be able to help you repair any appliance that isn't working properly or fix up any damage that has been done to your home. Check out wikipedia for additional information on what a handyman could do for you.
You get what you pay for
Pricing for a handyman can vary depending on where you live. If you live in an area where the cost of living isn't all that expensive, you're looking at paying around $30 to $50 an hour if your handyman works independently. In more expensive areas, the price could range anywhere from $40 to $60 an hour. If you're hiring a handyman that works for a professional handyman company, your rate will definitely run a little higher. Expect to pay somewhere between $70 and $120 an hour if you choose to go with a professional handyman company. There are certain jobs where you'll be charged a lump sum instead of an hourly rate. For example, you might a common problem with your dishwasher, and your handyman might have a policy where he charges a flat rate of $125 to fix a dishwasher.
How to be satisfied with your bill
Every handyman will have their set rates for what they charge per hour, but that doesn't mean that you won't have any control on what your bill will be. Believe it or not, what you end up paying your handyman is partially up to you. Such is the case if you know how to prepare well before you have your handyman show up. One way to prepare well is to have any tools ready that you think the handyman might ask for, or maybe some type of replacement part that you're positive will be needed. The reason it's good to be prepared for this stuff is because if they're going to run to the store for these things, you will be paying for their time spent at the store since you're paying hourly. Another way to prepare for your handyman is to have a list of all the things you need fixed. Make this list before you call and schedule an appointment with the handyman. This way, when they arrive and are ready to go to work for you, you wont be wasting any time trying to remember every little thing you need fixed. You will know right where to direct them so the job gets done quickly and doesn't get strung out. If you're on top of these things, you should be relatively content with your bill.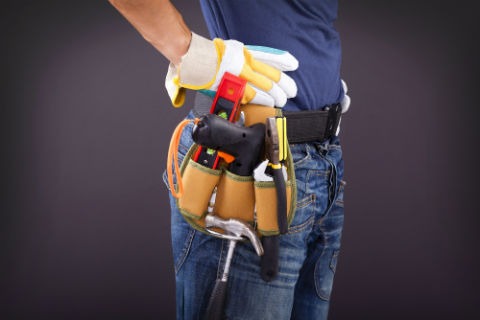 Thinking about joining the profession?
You might be on the other end of the spectrum where you're that one neighbor that everyone relies on for odd jobs that nobody else has the skills for or is willing to do. If you want to take things to the next level and get paid for your handyman skills, there are a few things to consider. According to the U.S. Small Business Administration, one of the first steps towards joining the profession is making a business plan. You need to do your research and know what you're up against before putting all your time and money into the profession. The next step is to look into licensing and permits. Your potential clients are more likely to hire you if you're licensed by the city or state to do handyman work. Another thing you will want to look into is business insurance. Accidents happen, and you don't want to be put into a sticky financial set-back if an accident were to happen while working. It costs money to get into any business, and weighing the expenses against what you believe you will be able to make will get you started on the right foot.