Ware Disposal
Dumpster Rental
---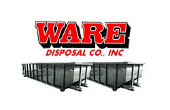 Ware Disposal
1035 E 4th St




Santa Ana

,

CA

92701
- 2 Reviews
(949) 482-0368
---
Services Offered:
Years in Business: 52

Review Ware Disposal
Call Ware Disposal Today: (949) 482-0368
About Ware Disposal
Ware Disposal is a California Corporation and it has had the privilege of serving Southern California's solid waste and recycling needs since its establishment in 1968. Formally incorporated in June 1982, Ware Disposal has survived and grown during the massive industry consolidation of the 1990s, and it's stronger than ever by focusing on its core strength - recycling - and commitment to the customer as its twin pillars of profitability.
Ware Disposal remains one of the longest-standing, family-owned and locally operated solid resources providers and processors. While based in Orange County, Ware Disposal works throughout Southern California, and in 2013 was ranked one of the Top 50 Refuse and Recycling Firms in the United States according to the noted national journal Waste Age. Ware Disposal has long advocated the triple bottom line - people, planet and profits.
Way before it was fashionable and years before AB 939, Ware Disposal provided recycling services to our client base. In partial recognition of this, Ware Disposal received a WRAP award in 2011 from CalRecycle for its outstanding contributions to diversion in Southern California. Last year, Ware Disposal diverted and recycled more than 90,000 tons of material.
Ware Disposal has been a verified Cork'd partner since 10/01/2012.
Get to know us better:
Question: What do you do differently than your competitors that benefits your customers?
Answer: For Ware Disposal Inc., the client is supreme. We will do whatever it takes to ensure the client receives the highest quality service known to the industry and to treat the client with the utmost respect.

Question: What types of things do you do to keep up to speed in your industry?
Answer: Ware Disposal Inc. remains up to date with all legislative and regulatory changes implemented by Sacramento. Ware Disposal Inc. will ensure your project is in full compliance will all applicable federal, state and local laws and regulations.

Question: Tell us about a positive experience you had with a customer that has impacted your business.
Answer: Ensuring our client base's satisfaction on a daily basis is the constant, positive experience that impacts our business on a daily basis.

Question: What's the #1 thing that your customers should know about your business?
Answer: Ware Disposal Inc. will not be satisfied unless our client is...we will make it right for the client.
Question: What would you say your customers like the most about your services?
Answer: Ware Disposal Inc. can provide bins and boxes at a moment's notice to our client base.

Question: What have you done to improve your business over time?
Answer: Roll off box service is a specialty service of Ware Disposal Inc. Our focus upon this service benefits our client base requiring this service.

Question: What's your favorite thing about what you do?
Answer: Ware Disposal Inc. aims to provide the most professional experience to our client base on a daily basis...that's what drives us every day.
January 27, 2015 -
I needed a dumpster delivered to a job site with just a few hours notice and Ware Disposal was the only company I spoke to that could make it happen.
James T .
---
January 27, 2015 -
I'd definitely recommend Ware Disposal to anyone looking for a dumpster in the Orange County area.
Cathy P .
---