J And D Recyclers
Junk Removal
---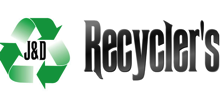 J and D Recyclers
233 E. Court St.




Sidney

,

OH

45365
- 0 Reviews
(937) 419-0141
---
Services Offered:
Years in Business: 8
License Number: 2013069
# of Employees: 3

Review J and D Recyclers
Call J and D Recyclers Today: (937) 419-0141
About J and D Recyclers
J & D Recyclers is your local Junk Removals, Demolition & Hauling provider for the greater Sidney & Dayton areas. We have the best prices when it comes to all of your Junk Removal needs. We provide a prompt, friendly and professional service that you can count on. With J & D Recyclers, you know you are getting the best service at the best price. We can haul away your old appliances, carpet removal, computer recycling, old furniture, hot tubs, and more. For commercial purposes, we can haul away rubbish, tires, remodeling debris, old refrigerators, and offer recycling needs and more. Give J & D Recyclers a call for a quote on all of your greater Sidney and Dayton Junk Hauling needs today!
J And D Recyclers has been a verified Cork'd partner since 06/02/2015.
Get to know us better:
Question: What do you do differently than your competitors that benefits your customers?
Answer: Lower Prices & Bigger Trucks

Question: What types of things do you do to keep up to speed in your industry?
Answer: Trucks, prices, customer service

Question: Tell us about a positive experience you had with a customer that has impacted your business.
Answer: We did a job local and out of the blue the customer sent us a letter thanking us. From that day on we have always put more work into helping out with ever little thing we can. That letter said a lot for this company.

Question: What's the #1 thing that your customers should know about your business?
Answer: Our prices are the lowest in Ohio when it comes to company prices.

Question: What would you say your customers like the most about your services?
Answer: Our customer service

Question: What have you done to improve your business over time?
Answer: Gotten bigger truck & lowered our prices. Moved our office to a more residential location.

Question: What's your favorite thing about what you do?
Answer: Meeting new people