Good Guys Tree Service
Tree Service, Tree Trimming
---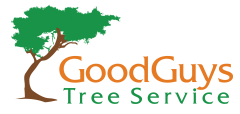 Good Guys Tree Service
11601 Anderson Mill Rd




Austin

,

TX

78750
- 2 Reviews
(512) 743-3909
---
Services Offered:
Tree Service
Tree Trimming
Years in Business: 24
# of Employees: 15

Review Good Guys Tree Service
Call Good Guys Tree Service Today: (512) 743-3909
About Good Guys Tree Service
Good Guys Tree Service is one of Austins premier tree care companies. We treat all of our customers as if they are family! I mean that. That is what has made us so successful in getting so many repeat customers. We love it ;-) and our customers love us. Another reason we set ourselves apart from most all other tree companies is because we only hire trained professionals that are clean cut, and very helpful and friendly all the time.
We offer:
Every single person and Good Guys Tree Service take pride in what they do so therefore you will always get the very best tree service or tree care possible when you choose Good Guys Tree Service. We also have several Certified Arborist on staff.
Good Guys Tree Service offers the below Services:
Tree Trimming
Tree Pruning
Tree Removal
Tree Maintenance
Tree Care
Tree Planting
Tree Fertilization
Arborist Consultation
Tree Cabling
Tree Bracing
Ball Moss Removal
Mistletoe Removal
Land Clearing
Lot Clearing
Shrub Trimming and Removal
Brush Removal
Storm Clean-up
24 hr Emergency Service
Good Guys Tree Service has been a verified Cork'd partner since 12/09/2014.
Get to know us better:
Question: What do you do differently than your competitors that benefits your customers?
Answer: We treat each and every customers like family.

Question: What types of things do you do to keep up to speed in your industry?
Answer: Our Arborist are always attending Further education classes.

Question: Tell us about a positive experience you had with a customer that has impacted your business.
Answer: every day our customers leave fantastic reviews for us and it has a huge impact on our business.

Question: What's the #1 thing that your customers should know about your business?
Answer: That we really do care about them and their trees.

Question: What would you say your customers like the most about your services?
Answer: That we treat them with kindness and respect, and we always do a good job.

Question: What have you done to improve your business over time?
Answer: We just continue to be knowledgeable about trees and be as friendly as possible!

Question: What's your favorite thing about what you do?
Answer: We love trees, we really do ;-)




April 10, 2015 -
Great company! Very knowledgeable, very competent. Extremely nice guys! I highly recommend Good Guys Tree Service!!!
Kirsten .
---
August 18, 2016 -
Having tried to contact former tree company for almost two months, I received a call back the very same day with my first attempt to Good Guys. Jason was very clear in explaining what was going to happen in my yard, what time line would be involved and the quality of work to expect. And he was absolutely right on all counts. Quick, clean work by a hard working and friendly crew, and the yard looks great. There were so many problems and they were all dealt with quickly leaving me a very happy customer. I highly recommend the guys at GOOD GUYS because the name says it all!
Barbara S .
---