Freeman The Treeman
Tree Trimming, Tree Service, Tree Removal, Landscaping, Lawn Care, Gardeners,
---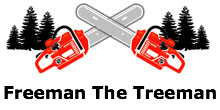 Freeman The Treeman
288 Neville Rd




Moscow

,

PA

18444
- 0 Reviews
(570) 209-8897
---
Services Offered:
Tree Trimming
Tree Service
Tree Removal
Landscaping
Lawn Care
Gardeners
Years in Business: 10
# of Employees: 3

Review Freeman The Treeman
Call Freeman The Treeman Today: (570) 209-8897
About Freeman The Treeman
We are a family run businesses specializing in dangerous tree removal where bucket trucks can't go. We also offer landscaping, excavating, and Lawn care. We leave the costumers property like we were never there exept for the work done.
Freeman The Treeman has been a verified Cork'd partner since 11/30/-0001.
Get to know us better:
Question: What do you do differently than your competitors that benefits your customers?
Answer: We leave the job site looking like we were never there. If lawn is damaged we will repair it. We show up for appointments and will call you back.

Question: What types of things do you do to keep up to speed in your industry?
Answer: We take training every year and are constantly investing in better safety equipment and technology.

Question: Tell us about a positive experience you had with a customer that has impacted your business.
Answer: Many of our customers have encouraged us to do not only tree service but other things so we also do Excavation, Landscaping, and Lawn care.

Question: What's the #1 thing that your customers should know about your business?
Answer: We are here to serve you.

Question: What would you say your customers like the most about your services?
Answer: Promptness and attention to detail.

Question: What have you done to improve your business over time?
Answer: Continuing to invest in better equipment. and growing our business as a family.

Question: What's your favorite thing about what you do?
Answer: Being able to see life in everything we do and helping that life grow better with pruning, trimming, and removal.