Dukes Junk Removal
Junk Removal
---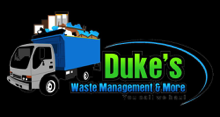 Dukes Junk Removal
14 Boyden Road




Pelham

,

MA

01002
- 0 Reviews
(413) 535-9808
---
Services Offered:
Years in Business: 7
# of Employees: 5

Review Dukes Junk Removal
Call Dukes Junk Removal Today: (413) 535-9808
About Dukes Junk Removal
We provide junk removal, haul away service. Clean outs & dump runs, garages, attics, basements, yards and more. We also provide demolition services, shed & barn tear downs, campers and rv's. We can remove vehicles, boats or anything you need to remove of.
Dukes Junk Removal has been a verified Cork'd partner since 01/27/2015.
Get to know us better:
Question: What do you do differently than your competitors that benefits your customers?
Answer: We recycle 80% of all our removed items.

Question: What types of things do you do to keep up to speed in your industry?
Answer: Industry assocation involvement & community recycling involvement.

Question: Tell us about a positive experience you had with a customer that has impacted your business.
Answer: We provide removal service for a client who has given us a local contract and become a close friend.

Question: What's the #1 thing that your customers should know about your business?
Answer: Our customer always comes first.

Question: What would you say your customers like the most about your services?
Answer: That we are proactive to our customers needs.

Question: What have you done to improve your business over time?
Answer: Exceed customer expectations.

Question: What's your favorite thing about what you do?
Answer: Our customers become repeat customers and friends.