Cloudy Sky Tree Service
Tree Service, Tree Trimming, Tree Removal
---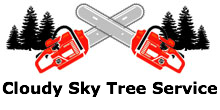 Cloudy Sky Tree Service
24017 Se 187th St




Maple Valley

,

WA

98038
- 1 Reviews
(425) 999-0412
---
Services Offered:
Tree Service
Tree Trimming
Tree Removal
Years in Business: 12
License Number: Contractor # CLOUDST882QT
# of Employees: 7

Review Cloudy Sky Tree Service
Call Cloudy Sky Tree Service Today: (425) 999-0412
About Cloudy Sky Tree Service
Cloudy Sky Tree Service is then umber one tree service company in the Greater Seattle area. We are a one stop shop for all of your tree service needs including tree removal, tree pruning, stump grinding, and much more. Give our professional staff a call today to help with all of your tree service needs!
Cloudy Sky Tree Service has been a verified Cork'd partner since 07/06/2015.
Get to know us better:
Question: What do you do differently than your competitors that benefits your customers?
Answer: Our experience and professionalism is unmatched. We currently have four climbers on staff who have a combined experience of over 60 years. We also have an ISA certified arborist on staff. In addition, our commitment to customer service is equally as important as the training and professionalism of our staff. We have been the Home advisor contractor of the year for the last two years and and A+ rated with the BBB. Our service is a total service with no surprises. Our attention to detail and clean-up afterwards is second to none.

Question: What types of things do you do to keep up to speed in your industry?
Answer: We have a minimum of two hours training for all of our staff weekly, and our climbers continue their education and pursue higher levels of certifications.

Question: Tell us about a positive experience you had with a customer that has impacted your business.
Answer: As a company, we understand that customers are our life. Therefore we make it our aim to discover what their needs and wishes are, find out what their budget is, and to give them the best plan and strategy to meet their goals. We take great satisfaction in our customer's satisfaction. We always arrange for our customers to review our work online before we start the work. We call that our "guarantee of good service." We know they will tell the public about the quality and professionalism of our service.

Question: What's the #1 thing that your customers should know about your business?
Answer: Our first priority is the safety of our clients and our customers. We do not compromise quality of service in order to make a sale, yet our prices are competitive. Our goal is to satisfy customers and meet their needs.

Question: What would you say your customers like the most about your services?
Answer: The customers like our total package from our attention to the customer's needs as we evaluate their properties to the prompt and professional execution of our service. They will tell you that our staff is not only professional, but friendly.

Question: What have you done to improve your business over time?
Answer: In order to improve our business we have implemented training procedures, add staff and update equipment.

Question: What's your favorite thing about what you do?
Answer: The favorite thing about what we do is making our customers satisfied from start to finish. We understand that a quality business is built by building a reputation for professionalism, quality of service and education. There are many aspects to our services that customers are often unaware of, and a non-obligation assessment can provide a lot of important information to our customers which helps protect the safety of their home and family and preserves the beauty and maintenance of their home.