Arizona Rubbish Disposal
Junk Removal
---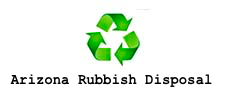 Arizona Rubbish Disposal
18647 N. 13th Drive




Phoenix

,

AZ

85027
- 0 Reviews
(480) 359-2650
---
Services Offered:
Years in Business: 7
# of Employees: 6

Review Arizona Rubbish Disposal
Call Arizona Rubbish Disposal Today: (480) 359-2650
About Arizona Rubbish Disposal
Arizona Rubbish Disposal, LLC. is a Local & Affordable source for Junk Removal. We offer removal of junk, debris, trash, appliances, furniture, and more at an affordable price starting at $49.95. Customer service is #1 and it is our goal to make sure every one of our customer's expectations are met.
Arizona Rubbish Disposal has been a verified Cork'd partner since 05/19/2015.
Get to know us better:
Question: What do you do differently than your competitors that benefits your customers?
Answer: We provide upfront "out the door" pricing prior to any work beginning, In doing so you know exactly what you will pay before we touch a thing.

Question: What types of things do you do to keep up to speed in your industry?
Answer: We are constantly requesting customer feedback on their experiences. We are always looking for new and innovative ways to reduce and recycle the material we haul away.

Question: Tell us about a positive experience you had with a customer that has impacted your business.
Answer: In the process of helping an older gentleman clean up his property to sell we discovered an old watch under a mattress. He was ecstatic about the discovery because the watch was given to him by his father and he had thought he lost it years before. He was very appreciative and has sent many more customers our way since.

Question: What's the #1 thing that your customers should know about your business?
Answer: We take great pride in customer satisfaction. Regardless if we hauled away your junk efficiently, if we were not on-time, courteous, and professional we have not provided you our best possible service.

Question: What would you say your customers like the most about your services?
Answer: We are Local, Convenient, & Affordable.

Question: What have you done to improve your business over time?
Answer: We are always seeking feedback from our customer's in ways we can improve upon our services.

Question: What's your favorite thing about what you do?
Answer: The favorite thing about this work is interacting with the diverse variety of customers we come in contact with. We service customers all over the place and they always have entertaining conversations. Also every know and again you just have some oddball item that you haul away that makes your day.